About the Book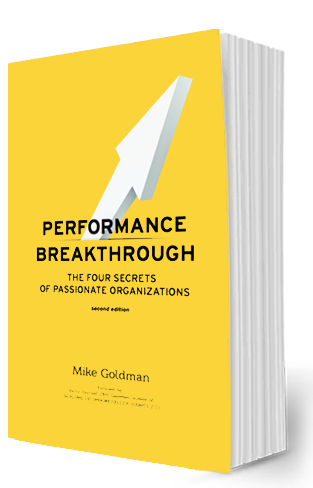 Turn Potential into Performance!
Gallup Organization research has concluded that only 29 percent of employees are truly engaged in the work they do. That's like an engine running at less than one third of its power! How can a team reach its potential, or even come anywhere close, with that level of engagement?
Now imagine the impact of injecting more passion into your team. Imagine a company where eight out of ten people are truly engaged. What would this mean to your team's productivity, morale, retention, and ability to recruit top talent?
Revised and enhanced from the popular first edition, Performance Breakthrough reveals the four secrets for creating a more passionate, productive, and profitable organization. These ideas are not expensive. In fact, you can execute many without spending a dime.
This book's message is communicated in the form of a fictional story to help make these ideas real and implementable, as opposed to fuzzy concepts. Augmenting the story are valuable new case studies, summaries, checklists, and other tools that will help you create positive energy, find passion, and achieve your own Performance Breakthrough!
---
Testimonials
"Mike addresses the emerging issue in mid-market companies: How do CEOs secure maximum engagement from their teams? The answer to this question will be the difference between good performance, and GREAT performance—with an energized culture! Performance Breakthrough shares the four key secrets to a level of engagement that results in competitive advantage. The narrative style, case studies, and workbook make it both a great book and application field guide for practical use!"
—Keith Cupp, President, Gazelles International Coaching Association
" I've read tons of business books and this is one of the best I have read. It's written as a parable. Books written in this format tend to be easy to digest, and this one is no exception. Mike Goldman has written a book that escapes one of the things that I don't love about books written in this format—they are often hokey, involving a chance meeting between the protagonist and a supernatural, magical, mystical, or seemingly supernatural, being. Goldman's book is not hokey at all. It is realistic and is filled with highly achievable suggestions. I highly recommend this terrific book."
—David Singer, EVP and Managing Director, Singer Nelson Charlmers
" Mike Goldman exudes positive energy, both in person and in Performance Breakthrough. In direct, clear language, Mike conveys practical, accessible tips for effective management. Cleverly presented as a story, Performance Breakthrough pulls the reader into the lives of Mike's characters, thus linking you to key lessons in an intimate, immediate way. Anxious to absorb his lessons and learn the plot's outcome, I inhaled this book in one gulp."
—Susie Schubb, President, Caring Capital
" Whether you're guiding your team or family, this quick read gives you the necessary tools to become a successful leader. Mike Goldman does a superb job of providing actionable information while engaging the reader. I find myself referring to certain sections on a regular basis and have purchased copies for coworkers who've thanked me for sharing the Four Secrets. Do yourself a favor and read it today!"
—Lissa Love, SVP Client Services, DialAmerica