Greater Mankato Growth, Inc.
Situation
Jonathan Zierdt is the president and CEO of Greater Mankato Growth, Inc., an integrated chamber of commerce, eco- nomic development, tourism and downtown organization serving Mankato, Minnesota.
Back in 2007, Jonathan was asked to merge the chamber of commerce, economic development, and tourism func- tions into one organization—a difficult undertaking and one Jonathan and his business coach, Diana Gabriel, needed to understand and navigate. Jonathan was already a fan of strengths-based leadership, and Diana helped him leverage this philosophy in the merger of these three organizations.
Action
Jonathan took a different approach than most would have followed. He first thought about the roles within this new integrated organization, and the strengths each of these positions would require. Based on this, job descriptions were rewritten, and a people strengths matrix was created (see the following partial matrix) using the StrengthsFinder Index (http://strengths.gallup.com).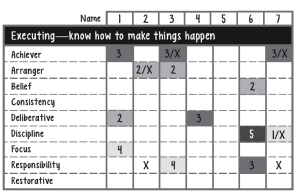 The strengths matrix gave the organization more awareness as an organization. Here are just some of the ways they've leveraged this awareness:
Hiring: They use StrengthsFinder results as a last stage in their hiring process to differentiate final candidates. Which candidate has the strengths they lack as an organization?
Decision-Making: When discussing an important issue, they've made a habit of looking around the room to see if there's an additional strength needed to round out the discussion. They then bring someone with that strength into the discussion, even if the issue doesn't fall within that person's job responsibilities.
Leadership Program: They run an annual leadership program for aspiring leaders in the community. They use the StrengthsFinder and matrix map to assist leaders in understanding and leveraging their strengths to build a robust community of leaders.
Results
Greater Mankato Growth, Inc. has realized significant results by getting more leverage from their strengths:
People love coming to work every day, and they have an employee turnover rate of less than 10 percent.
The membership retention rate is consistently in the mid-to high-nineties (much higher than average).
35 to 40 percent of businesses in the area are members, compared to other major regional centers, where the average is about 10 to15 percent.
They're "small but play big." For that reason, they're viewed as an institution, a megaforce in the community.
They've built regional partnerships with eight other municipal entities.
Given their reputation as a great place to work, they fill open positions very quickly. A recent open marketing position generated ninety applications in just seven days.
Two retiring board chairs changed their retirement plans and decided to work for the organization. That says a great deal, since the board normally has the best understanding for how an organization really works, warts and all.
Jonathan is now lobbying Mankato's local newspaper to run a "best place to work" contest—mostly because he suspects he'll win!!